Say goodbye to cold legs

Cold is a fact of life. We all have to live with freezing temperatures from time to time, but being cold outside or at home is a tragedy. Wearing multiple garments on top of each other is often not comfortable.

That is why we have developed the unbreakable cashmere tights. With our super stretch cashmere tights, you never have to make that decision again. It's as easy as wearing pajamas! You can wear them under your skirt or jeans, while exercising or just when you want to relax at home. Say goodbye to broken tights and cold legs!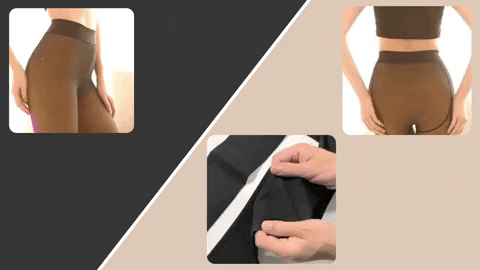 All-day comfort

You no longer have to search for comfortable pants to wear at home. The cashmere tights are made of polar cashmere and soft four-way stretch fabric. It offers seamless comfort against the skin. Perfect for getting things done around the house while staying comfortable and warm!

Stylish look for the cold season

Simply wear the cashmere tights under your favorite skirt or jeans to make your fall or winter outfit comfortable. Or wear the tights while hiking or exercising. With their contoured waistband, cashmere tights center your body for any outfit or occasion. From now on, you will feel warm and confident all day long!
No more broken tights - Made of unbreakable elastic, these tights keep you warm and comfortable in the cold. And the best part? No matter how cold it is outside and how much you weigh, these tights won't rip!


Push-up effect - These tights have a push-up effect that nicely centers your body and gives your buttocks a push-up.


Superstretch - One size fits all! Thanks to the innovative stretch material, you no longer have to search for the perfect fit. These tights fit everyone.
An indispensable garment for winter
You get up on a cold morning. Put on your cashmere tights. And start the day warm and comfortable. Whether you go to the supermarket, to the gym, go for a walk or relax at home. No matter where you are or what you are doing, cashmere tights will keep you warm all day! Are your cashmere tights dirty? No problem, you can just wash it at normal temperature!